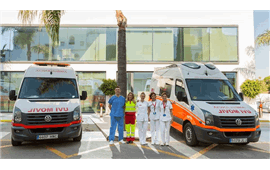 When you sign up for private healthcare, you want to know you're getting your money's worth. That's why when you sign up for a membership with us you'll have a membership that provides complete access to our state of the art Home GP Doctor Service in Marbella.
No age limit
Our memberships have no age limit. Anyone of any age, young or old, can be a member and have access to our GP home doctor service in the Costa del Sol.
All the GP care you need
You have access to all the GP care you need to treat your condition and manage any health concern you may have from the comfort of your own home at any time, day or night.
You'll be accepted as a member regardless of your medical history
That means that even if you've had a serious illness in the past or have previously had any form of surgery to correct a condition or relieve symptoms, you'll still be eligible. We won't turn you away because of an existing illness or previous surgeries and whatever your state of health, we'll do all we can to support you. We know that when you reach a certain age, it's highly unlikely that you won't have had treatment of surgery for a condition, and many people of an older age are likely to have a chronic or long-term illness. That's why we'll never turn elderly patients away because of a pre-existing condition.
Call at any time of the day, any day of the year
You'll have the ability to call on our GP home doctor service at any time of the day, on any day of the year. And once you've been checked over as an initial assessment, we'll make sure you receive all the care you need by arranging any necessary recurring GP home visits.
Most importantly, however, there's no limit to how far we'll go to ensure you have all the medical help, advice and support you need to live a healthy life for as long as possible.
If you would like more information on our unlimited membership, Home GP Doctor Service in Marbella or the range of GP treatments we offer, visit our website and call us to arrange the setup of your very own Helicopteros Sanitarios membership.