Aesthetic
Clinical Tattoo
A fully personalized method
With more than 20 years experience in Micropigmentation and Paramedics, Isabel Arias presents her @microINK method, a unique and exclusive system on the market developed throughout her professional career, meeting the needs of her clients.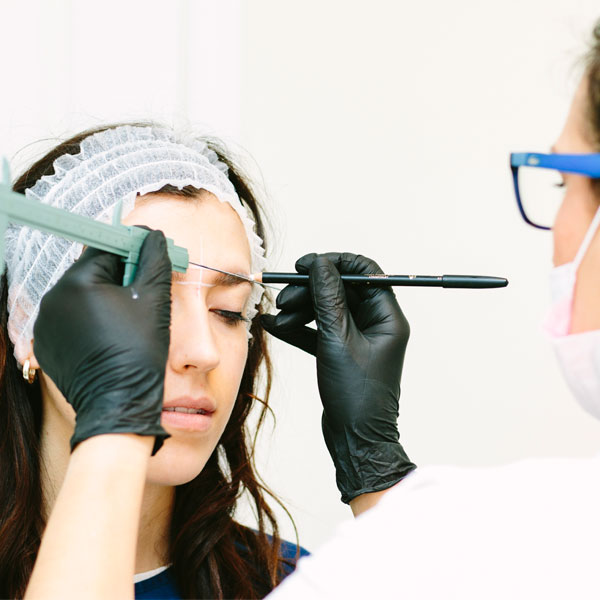 What is @microINK eyebrow system?
It is a long-lasting hyper-realistic eyebrow system. The result is a fantastic hair-by-hair eyebrow shape and colour customized to each client´s taste and features.
What is unique and different about this method?
The incredible hair-by-hair technique gives you a natural eyebrow, even in short distances. In addition, the ink doesn´t merge or fade making it easier and simple to retouch in a 2 year period to achieve a three dimensional and very natural eyebrow once again.
We do a first session where the tone is somewhat lighter and 5 weeks later we do a refresher where other tones are applied to achieve the desired colour and reinforce that realistic eyebrow image.
This is an absolutely personalized method as prior to the treatment, a make-up session is done, adapted to the persons personality, features and taste. Making sure the client is able to see the final result and also give their approval.
Pain?
Nothing! We previously make up a medical file and prepare the skin so that the treatment is always painless.
SAFETY AND GUARANTEE from the first moment.
Eye-liner
As a professional make-up artist, we make a preliminary eye-liner design according to your eye shape and style. We offer you a traditional eye-liner or a thin blended eye-liner. Always adapting to our clients preferences and tast.
We also offer the option of a more natural look by thickening the eyelashes resulting in a intense look.
Our method is totally painless as an optimal preparation is made to adapt to each patients sensitivity. A long-lasting technique where you would only need to retouch the colour at approximately 4 to 5 years.
Lips
Do you want to always have a perfect and well defined lip?
Lip micro-pigmentation has come a long way in recent years.
A well defined lip can change the image of your face
What do we offer?
Correct lip asymmetries
Give shape and colour to a cleft lip
Shaping lip and colour to suit each patient (always under the guidance of our professional)
Obtain a 3D volume effect
Camouflage scars
We use a comprehensive work protocol for lips to obtain a perfect result.
The duration of this treatment can be between 3 to 5 years depending on the need to refresh the colour.
---